MATT India Medical Center

TYLKO AJURWEDA
2 tygodnie: 2000 - 3000 PLN
Kerala - w głębi lądu, w sąsiedztwie Backwaters
najbliższe lotnisko: Kochi - 50 km
O OŚRODKU
Klinika leży na skraju wioski, w której można zaopatrzyć sie w podstawowe produkty codziennego użytku, a także skorzystać z usług krawca.
Pokoje mieszkalne i zabiegowe zajmują 2 budynki połączone ze sobą. W kilku miejscach wspólnych jest zasięg bezpłatnego internetu.
W ośrodku znajduje się gabinet lekarski i apteka z lekami ajurwedyjskimi.

Spędzanie czasu wolnego
Jeśli lekarz nie widzi przeciwwskazań, można wybrać się na wycieczkę łodzią po rozlewiskach Kerali, pojechać do centrum handlowego, na plażę, do Kochi.
Ośrodek może zorganizować transport w przystępnych cenach samochodem osobowym z klimatyzacją.

-WARUNKI ZAKWATEROWANIA-
MATT India posiada 40 pokoi jedno i dwuosobowych kilku standardów, które różnią się wielkością.
W pokoju jest łazienka z toaletą i prysznicem (zimna woda), wiatrak sufitowy, łóżka z moskitierą, duża butla z wodą do picia, w kilku pokojach dostępna jest klimatyzacja.

AJURWEDA
W ośrodku codziennie jest dostępny 1 lekarz i około 20 terapeutów, którzy mają do dyspozycji kilkanaście pokoi zabiegowych.

TTERAPIE REGENERACYJNE-
PANCHAKARMA: oczyszczanie, odmładzanie, uwolnienie od stresu
-TERAPIE LECZNICZE-
Łuszczyca, artretyzm, zapalenie zatok, migreny, depresja, bezsenność, ischias, skolioza, stwardnienie rozsiane, porażenie nerwu twarzowego, powikłania po złamaniu

W cenie wybranej terapii ośrodek oferuje:
- zakwaterowanie w wybranym pokoju
- konsultacje lekarskie
- zalecone zabiegi
- wegetariańskie posiłki
- poranne sesje jogi (6 dni w tygodniu)
- transfer z/na lotnisko w Kochi
OPINIE O OŚRODKU
Andrzej Rozmarynowski z Polski
wrzesien 2016
Sam pobyt był rewelacyjny. W klinice pracują wspaniali ludzie! Przykładają się bardzo do zabiegów, zależy im szczerze na dobru pacjenta, a poza tym wiecznie się uśmiechają, aż nie sposób wpaść w tym miejscu w jakikolwiek stan napięcia. Moje leczenie wspomagał Joy, właściciel – czasem mnie dobijał, bo masaż w jego wykonaniu był, że tak powiem, typowo rosyjski, solidny… Bardzo dużo dała mi joga. W trakcie zabiegów oczyszczania ubyło mi 3 kg w ciągu jednej doby – tyle toksyn wyrzucił mój organizm. W ciągu 3 tygodni pobytu zrzuciłem 10 kg.
Przez półtora miesiąca po powrocie do kraju czułem się świetnie. Niestety, potem znów dopadł mnie stres, zabrakło ciągu dalszego w postaci zmiany stylu życia i diety.

Helen Barlow z Wielkiej Brytanii
wrzesień 2016
Dobiegł właśnie końca mój pobyt w ośrodku Matt India w Kerali i terapia zwana Panchakarmą. Ajurweda wywodzi się właśnie stąd, bo w Kerali rośnie najwięcej roślin i ziół stosowanych w Ajurwedzie. Dlatego przyjazd tutaj wydał mi się oczywistym wyborem. Zdecydowałam się na skromną, dość tanią klinikę – a nie ośrodek wypoczynkowy z puszystymi ręcznikami, jedwabną pościelą i miękkimi leżakami, co często widzi się w miejscowych ośrodkach Ayurwedy. Natomiast w tym przypadku to, czego klinice brakowało pod względem standardu czy luksusu, rekompensowała jakością zabiegów, serdecznością i profesjonalizmem naprawdę doświadczonej kadry medycznej.
Moje leczenie przebiegało tak, jak w typowym cyklu terapii Panchakarmy. W klinice dostosowuje się ten program leczenia do potrzeb pacjenta, także w moim przypadku pominięto zabiegi o nazwie "vamana", czyli prowokowane wymioty. Panchakarma ma działanie lecznicze, prewencyjne i odmładzające, i jej zadaniem jest przywrócić organizmowi stan optymalnego zdrowia. Osobiście nie mam żadnych poważnych dolegliwości, więc chodziło mi przede wszystkim o oczyszczenie organizmu z toksyn, co jak myślę miało miejsce dzięki codziennym masażom i zabiegom, oczyszczaniu zatok, lewatywie, ćwiczeniom jogi, diecie wegetariańskiej, ogromnym ilościom wypijanej wody i przyjmowanym preparatom ziołowym. Teraz, tuż po zakończeniu terapii, czuję się jak nowonarodzona, a do tego mam przyjemnie lekką i spokojną głowę. Było to ubogacające doświadczenie, podczas którego poznałam fajne osoby, odkryłam co nieco lokalną kulturę, a moje ogólne samopoczucie poprawiło się niesłychanie. Planuję wrócić tu w przyszłym roku!

Deanne Stephenson z Kanady
wrzesień 2016
Podsumowując, powiedziałabym, że pobyt w klinice Matt India był dla mnie bardzo pozytywnym doświadczeniem. Z pewnością profesjonalizm, życzliwość, uważność i osobowość personelu medycznego, który się mną zajmował, sprawiają, że jest to miejsce, które będę polecać. Moje wrażenia od początku były dobre, a z każdym dniem stawały się coraz lepsze. Niektóre zabiegi były dla mnie wyzwaniem ze względu na moje dolegliwości, ale przez cały miesiąc pobytu tutaj doświadczałam wsparcia i ogromu życzliwości. Dzięki terapii udało mi się zrzucić ponad 15 kg, czuję się o niebo lepiej, i zmierzam ku odzyskaniu pełni zdrowia. Trudno było mi stąd wyjechać i dopiero po wielu uściskach i ciepłych słowach byłam gotowa rozstać się z tym miejscem. Z pewnością tu wrócę!
Nie wszystko było idealne, ale z pewnością moje oczekiwania zostały spełnione.

MAPA KERALI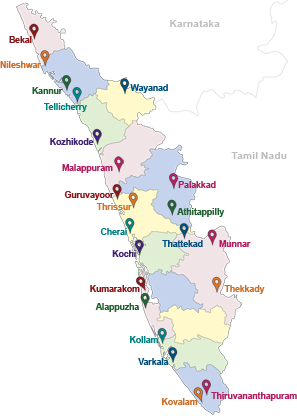 POLSKI OPIEKUN
Osobom potrzebującym wsparcia językowego lub po prostu obecności rodaka, możemy zapewnić asystę polskiego opiekuna podczas całego pobytu w Indiach.
Opiekun pomoże zarówno w sprawach medycznych, jak i życia codziennego, m.in:
- odbierze z lotniska i zawiezie do ośrodka,
- będzie obecny w czasie konsultacji medycznych w roli tłumacza,
- ułatwi przystosowanie się do mieszkania w ośrodku,
- zorganizuje wycieczki (o ile nie będzie przeciwwskazań medycznych),
- na koniec odwiezie na lotnisko.