Sree Chitra Ayur Home

TYLKO AJURWEDA
2 tygodnie: 5000 - 6000 PLN
Kerala - w głębi lądu nad rzeką
najbliższe lotnisko: Kochi - 80 km
O OŚRODKU
Sree Chithra Ayur Home to unikalna instytucja na polu Ajurwedy, w której nieprzerwanie od 400 lat wiedza medyczna jest przekazywana z pokolenia na pokolenie.
Rytm dnia w ośrodku jest dość rygorystyczny. Zaczyna się rano o 5.30. O 6.30 godzinna sesja jogi, a po niej śniadanie. Od godziny 8.30 zaczynają się zabiegi. Każdy pacjent poddawany jest indywidualnie ustalonym zabiegom. W zależności od typu osoby i rodzaju schorzenia mogą to być 2 lub 3 zabiegi dziennie - przed południem i popołudniu. Lunch jest serwowany w godzinach 12.30 – 13.30. Dzień się kończy po kolacji o 20.30.
Posiłki są serwowane w klimatyzowanej jadalni. W menu smaczne i higieniczne dania ajurwedyjskie i tradycyjne keralskie.
Wszelkie używki są zabronione na terenie ośrodka.
Spędzanie czasu wolnego
Jeśli nie ma przeciwwskazań lekarskich pacjenci mogą wybrać się na wycieczkę do sanktuarium słoni, do świątyni w Guruwayoor, na plażę. Można też wyruszyć w rejs po rzece Manathala tradycyjną keralską łodzią kettuvallom lub zasięgnąć porady astrologa.

-WARUNKI ZAKWATEROWANIA-
Ośrodek posiada 12 klimatyzowanych pokoi w głównym budynku o tradycyjnej keralskiej architekturze oraz cottage nad rzeką, gdzie można się maksymalnie zrelaksować i zapomnieć o gorączce miejskiego życia.
W pokojach jest łazienka z dostępem do zimnej i ciepłej wody, klimatyzacja, telewizor.
typy pokoi: Deluxe - podstawowy, Superior Deluxe - z balkonem, Signature - osobny domek z widokiem na rzekę, Twin cottage - domek nad rzeką z zapleczem kuchennym

AJURWEDA
W ośrodku pracuje 6 doświadczonych lekarzy. Główny lekarz jest profesorem w ajurwedyjskim koledżu.

-TERAPIE REGENERACYJNE-
PANCHAKARMA: oczyszczanie organizmu, odmłodzenie organizmu, uwolnienie od stresu

-TERAPIE LECZNICZE-
Cukrzyca, nadciśnienie, otyłość, bezpłodność, bóle pleców, bóle stawów, reumatyzm, dolegliwości związane z artretyzmem, astma, problemy alergiczne, problemy z kręgosłupem, dolegliwości związane z oczami, wady rozwojowe u dzieci.

W cenie wybranej terapii ośrodek oferuje:
- zakwaterowanie w pokoju z klimatyzacją
- konsultacje lekarskie
- zalecone zabiegi – minimum 2 dziennie
- wegetariańskie posiłki
- godzinna sesja jogi dziennie
- lekarstwa zażywane podczas pobytu w ośrodku
- transfer z lotniska / na lotnisko (dla pobytów minimum 7 dni)
OPINIE O OŚRODKU
Karin F ze Szwecji
styczeń 2016
I've stayed for 2 weeks of Ayurvedic treatment. It has been like an Oasis of the best in life: the staff is so professionel, providing high quality ayurvedic treatment always with a kind, warm attityde. Good vegetarian food and beatiful surroundings. Every morning started with 1,5 hour of combined yoga and meditation class, so nice.
I've been home for 2 weeks now and the effects of my treatments still surprises me! I really feel rejuvenated, more relaxed and my legs are revitalzed. ☺ i'm running up the stairs now. I feel so grateful to all the staff and I miss you all
Best regards!!
Karin

Anil K. z USA
2016-01
First of all to all the people. This place is not a Luxury hotel but one of the best Ayurvedic Hospital (retreat).
Had been to Sree Chithra Ayur Home on recommendation from a friend for cervical spondylosis and Biceps tendonitis on Sept-Oct 2015. Had disposed myself to the doctor here for 3 weeks so that I can get the best.
look back I am surprised about the time that I spend just looking at the flowing water and scenic beauty this place.
Doctor and Support Staff:
"It is a family atmosphere" this was the first statement from Dr Arun mentioned and very true. Doctors here are god send. From Dr Madhu,Dr Pratibha, Dr Arun, Dr Meera all there to guide you through out the treatment. Dr Madhu & Dr Pratibha inspite of his busy schedules ensures that everybody is taken care. Thanks a ton to Dr Arun for the small tips for leading healthy life.
Support Staff:
They are all there to help you when ever you need them at any time. Within day of joining you become one among them. Thanks a ton to Jeeja,Sujit,Monish,Jayan,Raghu and Santhosh
Food:
The food is one of the best organic food that I had. To be clear on food it is strictly prescribed by Doctor and Vegan and with initial fight with myself I got used to it.
Treatment: The treatment was done with sincerity and care with explanation on each step why it is being done.
Rooms: AC room and Wifi, Since the main purpose was treatment and solo I am fine with the size.The housekeeping people are spot on every morning to keep it clean and tidy.
Overall visit:
Time well spend with nature and with caring people and good treatment which would give me enough strength.

jayram894 z Australii
2015-12
We were at this Ayurvedic retreat for two weeks. Very happy with the treatment as ours was more for general well being and a health check.. The doctors were very knowledgeable and always ready to respond to all our concerns .
A special word about the staff . One of the most polite, friendly and well mannered.
staff. The friendly atmosphere makes a lot of difference to the two weeks stay .
Location is serene, very clean and comfortable.
This centre only caters for a handful of clients at a particular time. You get personalized attention from doctors and staff. Highly Recommended place for your health check.

MAPA KERALI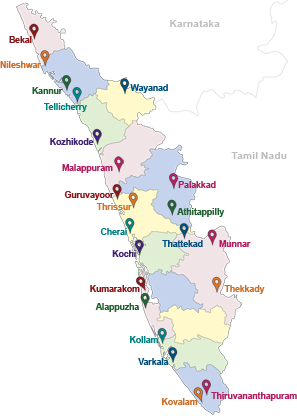 POLSKI OPIEKUN
Osobom potrzebującym wsparcia językowego lub po prostu obecności rodaka, możemy zapewnić asystę polskiego opiekuna podczas całego pobytu w Indiach.
Opiekun pomoże zarówno w sprawach medycznych, jak i życia codziennego, m.in:
- odbierze z lotniska i zawiezie do ośrodka,
- będzie obecny w czasie konsultacji medycznych w roli tłumacza,
- ułatwi przystosowanie się do mieszkania w ośrodku,
- zorganizuje wycieczki (o ile nie będzie przeciwwskazań medycznych),
- na koniec odwiezie na lotnisko.