Ananda Lakshmi Ayurveda Retreat

TYLKO AJURWEDA
2 tygodnie: 7000 - 8000 PLN
Kerala: blisko wybrzeża
najbliższe lotnisko: Trivandrum - 25 km

O OŚRODKU
Przyjazny środowisku ośrodek położony wśród bujnej zieleni z rozległym widokiem na Morze Arabskie. Do dyspozycji gości Ananda Lakshmi oddaje 15 pokoi w dwóch różnych kategoriach Deluxe Rooms (6 pokoi) i Deluxe Villa (9 domków). Posiłki są serwowane w restauracji na wolnym powietrzu położonej obok plantacji bambusów. Brak ścian gwarantuje świeżą bryzę i wspaniały widok. Codzienne zajęcia jogi i medytacji odbywają się również na świeżym powietrzu, na sześciokątnej, zadaszonej platformie o powierzchni 100 m kw. W pokojach i restauracji jest zasięg bezprzewodowego internetu.

Spędzanie czasu wolnego
Na terenie ośrodka znajduje się odkryty basen z jacuzzi. Plaża Chowara jest oddalona o 10 minut jazdy od ośrodka. W każdym tygodniu ośrodek zapewnia kilka bezpłatnych dojazdów na plażę. W ośrodku można zorganizować za dopłatą wycieczkę krajoznawczą do ciekawych miejsc w Kerali, a także wydarzenia kulturalne, lekcje gotowania czy kurs jogi.

-WARUNKI ZAKWATEROWANIA-
Wszystkie pokoje w Ananda Lakshmi posiadają ładnie umeblowany pokój sypialny i łazienkę z toaletą, prysznicem i ciepłą wodą. W Deluxe room znajdziemy: sufitowy wiatrak, termos z gorącą wodą, ręcznik, mydło, siatki przeciw komarom w oknach, ultradźwiękowy odstraszacz komarów. W Deluxe Villa dodatkowo rozsuwane szklane drzwi prowadzą na taras.

AJURWEDA

W ośrodku pracuje doświadczony lekarz i 10 terapeutów, którzy mają do dyspozycji 9 pokoi zabiegowych. Ostateczny zestaw zabiegów zostanie uzależniony od indywidualnych potrzeb pacjenta i wybranej ilości dni. W ciągu dnia pacjent korzysta z 2 -3 zabiegów.
Ananda Lakshmi posiada certyfikat Green Leaf.

-TERAPIE REGENERACYJNE-
Panchakarma (14, 21, 28 dni), pielęgnacja ciała (3 dni), poznaj ajurwedę (5 dni), ciało umysł duch (7 dni), odchudzanie (21 dni)

W cenie wybranej terapii ośrodek oferuje:
- zakwaterowanie w wybranym pokoju
- 3 posiłki dziennie, potrawy wyłącznie wegetariańskie
- konsultacje z lekarzem
- zalecone zabiegi
- joga i medytacje
- transfer z / do Trivandrum (lotnisko lub miasto dla pobytów przynajmniej 7 dni)
OPINIE O OŚRODKU
Karolina C z Polski
czerwiec 2016
I went here for 14 days panchakarma detox and I'm really happy with the result. I left relaxed, better focused and much healthier.
The resort is located in beautiful place, surrounded by nature with wonderful view.
I really enjoyed every day yoga classes, professional ayurvedic treatments and delicious Kerala food.
The staff are great, helpful, very polite and well mannered. I would like to give special thanks to Mr. John and Dr. Baiju for their kindness, flexibility and hospitality.
I highly recommend this resort and would definitely visit again.
Thank you for truly great time.

Sibu N z Pune w Indiach
styczeń 2016
"Excellent place, great staff"
Situated in a quite surrounding with the restaurant looking up to sea. The rooms were very clean and looked exactly as shown in their website. Overall the setting of the place calms your mind. Staffs were very well mannered. We spent two nights @ Anandalakshmi and enjoyed every minute we spent in the resort. There were limited options for dinner and breakfast. But it was good. The beach is far of the hotel (~ 15 minutes drive)
Monika z Polski
sierpien 2014
" I spent three weeks in Ananda Lakshmi Ayurveda Retreat in the second half of August 2014. Exceptionally place it every area! If you look for something intimate, discrete and quiet it is a perfect resort for you.I was on the complete Panchakarma stay. It was my first visit to India and also first contact with ayurveda, so I was very excited...! I was very pleased with the stay in Ananda Lakshmi at every level. Everything in this resort is consistent and designated in the way that you feel completeness, unity and harmony. Very clean and comfortable rooms with the breathless view on the sea. Delicious cuisine! The chef all the time was making every effort to adopt Indian tastes to my preferences (I'm not very keen on very spicy kitchen:-). Every day I had a set of, personally arranged for me, treatments. Many different kinds. It was marvelous and exceptional experience. Dr Baiju, doctor of Ayurveda, kept a watchful eye on the whole process of Panchakarma! Doctor is very good observer and professional in his ayurvedic art:-) Every person from the staff was really friendly, helpful, discreet and naturally nice!I'm recommending everybody to experience Panchakarma in his/her life at least once! The best recommendation is that I feel very well. I has been observing the positive effects of all treatments on my body and level of energy for few months after Panchakrma and they still last. I recommend visit this resort in summer months. Less people and good weather. In fact there was small rain nearly every day, but it was very short and only cleaning the air!I will repeat my Panchakarma in Ananda Lakshmi for sure!"

Robert L z Polski
"Our stay at ANANDALAKSHMI AYURVEDA - I can compare to stay at Robinson Crusoes island. Absolutely superb location of the hotel with view at Arabian Sea. Professionally selected staff, which with all the love and commitment to serve the customer. Unique yoga classes, which are intended to greet the day in the right way! You cannot fail to mention the kitchen, which impresses with its dishes in taste, smell and simple but ingenious form of presentation. The only of its kind masseurs -Hindu -our body therapists. Everything that surrounds us is maintained in perfect purity and has defined, sophisticated, a good European style. This combination of European energy and exoticism of India gives a sense of luxury and truth. The customer feels appreciated and noticed there by the co-owners, staff and the local natives. Bestowal with gifts we are very grateful that such a place was created on Earth and confidently recommend this resort to giving him the reputation of wonderful place!"

MAPA KERALI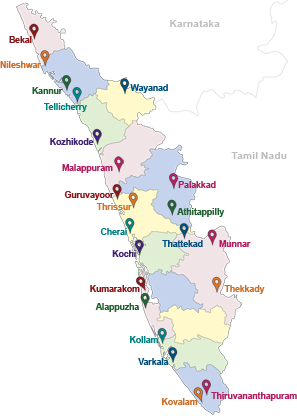 POLSKI OPIEKUN
Osobom potrzebującym wsparcia językowego lub po prostu obecności rodaka, możemy zapewnić asystę polskiego opiekuna podczas całego pobytu w Indiach.
Opiekun pomoże zarówno w sprawach medycznych, jak i życia codziennego, m.in:
- odbierze z lotniska i zawiezie do ośrodka,
- będzie obecny w czasie konsultacji medycznych w roli tłumacza,
- ułatwi przystosowanie się do mieszkania w ośrodku,
- zorganizuje wycieczki (o ile nie będzie przeciwwskazań medycznych),
- na koniec odwiezie na lotnisko.