Kairali Ayurvedic Healing Village

TYLKO AJURWEDA
2 tygodnie: 9000 - 10000 PLN
Kerala - w głębi lądu
najbliższe lotnisko: Kochi - 120 km

O OŚRODKU
Na rozległym terenie ośrodka znajdziemy ogrody kwiatowe, drzewa owocowe, kanały i stawy. Niestandardowe budynki mieszkalne zostały harmonijnie wkomponowane w tropikalną roślinność.
Do dyspozycji gości pozostaje 30 willi w 4 różnych kategoriach. Wszystkie zbudowane zostały z naturalnych materiałów zgodnie z regułami starożytnej Vastu Śastry, indyjskiego odpowiednika Fengshui.
W restauracji serwowane są smaczne, czysto wegetariańskie posiłki. Świeże składniki potraw pochodzą głównie z własnych upraw ekologicznych. Ogród ziołowy i warzywny dostarcza też surowców do produkcji olejów, ziół, leków, kosmetyków i środków czystości używanych na miejscu.
Alkohol i nikotyna nie są mile widziane w Kairali.
Spędzanie czasu wolnego
Na terenie ośrodka znajduje się basen z leżakami, kort tenisowy i do badmintona, wypożyczalnia rowerów, sala biblioteczna ze stołem bilardowym, siłownia, sala do medytacji i jogi.
W sezonie wieczorami są organizowane występy taneczne i muzyczne. Można tez zasięgnąć porady astrologa i wróżki.
Ośrodek organizuje również wycieczki do pobliskich atrakcji turystycznych - świątyń, wiosek, parku narodowego, a także lekcje gotowania. Można też wybrać się na górską wędrówkę po Ghatach Zachodnich.
udogodnienia: dostęp do Internetu, wymiana walut, centrum biznesowe, sala konferencyjna, pralnia
-WARUNKI ZAKWATEROWANIA-
Wszystkie wille są gustownie urządzone i posiadają łazienkę z wanną i WC, klimatyzację, wentylator sufitowy, lodówkę, czajnik, telewizję satelitarną, telefon.
Kategorie willi różnią stylem i komfortem:
Deluxe – podstawowa
Royal – bogaciej wyposażona
Maharaja suite – elegancki wystrój i prywatny trawnik przy basenie lub nad rzeczką.

AJURWEDA

Centrum ajurwedy zbudowane w tradycyjnym keralskim stylu architektonicznym posiada przestronne i jasne pokoje zabiegowe: 5 dla kobiet i 4 dla mężczyzn. Znajdują się tu również szatnie i kabiny prysznicowe.
Pacjentami opiekuje się dwóch wysoko wykwalifikowanych i doświadczonych lekarzy Ajurwedy oraz zespół profesjonalnych terapeutów.
Kairali Ayurvedic Village posiada certyfikat Green Leaf.
-TERAPIE REGENERACYJNE-
Regeneracja organizmu, Panchakarma, odmładzanie i odtruwanie, uwolnienie od stresu, pielęgnacja urody, pielęgnacja oczu
-TERAPIE LECZNICZE-
Migreny, schorzenia płuc, nadciśnienie, stres, problemy układu nerwowego, problemy z kręgosłupem, wypadający dysk, nadwaga i otyłość, osteoporoza i reumatyzm, choroby skóry, chroniczne bóle pleców, paraliż, łuszczyca, cukrzyca, uzależnienia od alkoholu, leków, tytoniu
Możliwe sa również terapie pozwalające wzmocnić organizm pacjentów chorych na raka oraz powrót do równowagi po ciąży.

W cenie wybranej terapii ośrodek oferuje:
- powitalny drink
- zakwaterowanie w wybranej willi
- wegetariańskie śniadania, lunche i kolacje
- butelka wody mineralnej na osobę dziennie, nielimitowane napoje ziołowe
- dwa zabiegi dziennie z kąpielą parową ( za wyjątkiem regeneracji)
- sok lub ziołowa herbata po każdym masażu
- codziennie rano grupowe zajęcia jogi
- codziennie wieczorem grupowe medytacje
- raz w tygodniu wykład o ajurwedzie
- raz w tygodniu wykład o jodze
- raz w tygodniu demonstracja gotowania zgodnie z zasadami ajurwedy
- raz w tygodniu spacer do pobliskiej wioski
Pobyt dzieci poniżej 5 roku życia za darmo
OPINIE O OŚRODKU
prinzessinulli z Niemiec
2016-11
I stayed 20 days at Kairaili Heeling Center and had a lot of different therapy's during the Panchkakarma.
The therapeuts did an outstanding job two times a day. Each treatment is done by two very kind ladies. The kindness and hospitality of all the ladies including the doctors is amazing and they do there job professionally. After each treatment you get the shampoo, conditioner and powder to clean your body and a cleaning lady looks the whole day for clean rooms.

Kairali is located in a wonderful tropical garden in the middle of nowhere, for me the perfect place to destress und recreat. It's a wonderful and quiet place. A lot of people take care every day of the beautiful garden with the little stream. I enjoyed relaxing in the hammock beside the swimming pool.

The many different cottages are beautiful and they are equipped with nice furniture, AC and fan. Cozy Indian style cottages with small veranda and TV. WIFI is only available at the reception, perfect for decelerate holidays. The cottages are cleaned daily and between 5 and 6 pm they do daily a burn incense against the mosquitoes.

I'm a non-vegetarian, but I missed nothing to eat during my 3 week stay. In enjoyed the really tasty and good food during my stay and that even with strict diet I wasn't hungry. The kindness and hospitality of the whole waiters inside the restaurant was outstanding. Every 2 weeks they do a special food served on a banana leave, you get many different curries and marsalas, a explosion of taste buds.

The Yoga and Medidation classes are done by great teachers, Anil and Hari.

I highly recommend Kairail to do a ayurvedic holiday, it's a wonderful place to reset your whole system, body and mind. My feeling after 3 weeks, is like "new born" and this after the combination of kind people, outstanding treatments, meditation, yoga, tasty food and quiet days.

garete24 z Wielkiej Brytanii
2016-11
My daughter and I just returned from this paradise. We had the most amazing time there. All the staff are fantastic and this is what makes the experience so great. We would like to thank you everyone from the gardeners, cleaners, the fantastic waiters, doctors and the best therapist Chandrika, she is amazing. She is the most loving and caring person. I really recommend asking for Chandrika when you visit the center. Her hands are magical. The surrounds are very beautiful. Meditation instructor Hari is also a fantastic person. We had very enjoyable meditations and yoga classes every day. We cannot wait to return in the near future.

Roshika Y z Indii
2016-08
I visited kairali ayurveda Resort with another couple over a long weekend and had the most amazing experience ever. It is the best place to go to if you are looking to get away from your busy unhealthy, stressful over indulging city life. They have meditation and yoga sessions everyday. They also have multiple relaxing and therapeutic ayurveda therapies and messages customized to your health needs. The food is healthy, wholesome yet delicious (their herbals teas are the best I have ever had) . The location is to die for with greenery all around and amazing private cottages. Our's was overlooking the beautiful pool which made the experience even more amazing. Overall amazing weather, breathtaking surroundings, outstanding service and hospitality, one invigorating, healthy, therapeutic, healing, cleansing and relaxing experience everyone should try!

MAPA KERALI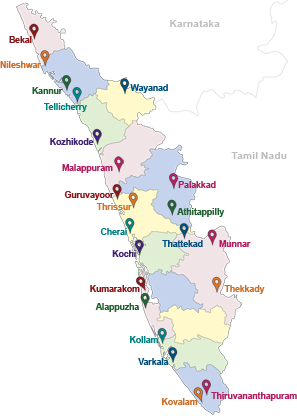 POLSKI OPIEKUN
Osobom potrzebującym wsparcia językowego lub po prostu obecności rodaka, możemy zapewnić asystę polskiego opiekuna podczas całego pobytu w Indiach.
Opiekun pomoże zarówno w sprawach medycznych, jak i życia codziennego, m.in:
- odbierze z lotniska i zawiezie do ośrodka,
- będzie obecny w czasie konsultacji medycznych w roli tłumacza,
- ułatwi przystosowanie się do mieszkania w ośrodku,
- zorganizuje wycieczki (o ile nie będzie przeciwwskazań medycznych),
- na koniec odwiezie na lotnisko.